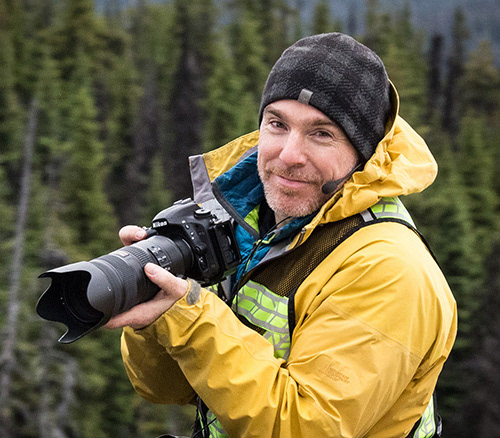 Early Influences
My passion for photography was inspired by the magic I witnessed in my grandfather's darkroom. I was only 3 when he first allowed me past those heavy curtains, where I watched him by the faint light of a desk lamp thickly wrapped with mottled red cellophane. While I'm a little nostalgic for those early days of softly clicking enlargers in the dark, this is a thrilling time to be a creative professional.
Please explore my portfolio, which contains a small sampling of my more than 25 years of professional photography and design. I have the great fortune of working with clients who appreciate my attention to detail and professionalism; whether yours is a photography, design, branding, or writing project, I look forward to meeting you, and exceeding your expectations.
Areas of Expertise
Photography - What You Can Learn
With more than 25 years of professional photographic experience, there's very little I haven't done. While my greatest strength is people and lifestyle photography, I'm proficient in the use of studio lighting (which I often use both indoors and out) and have a full set of portable studio lighting gear. I shoot with professional full-frame Nikon gear, ensuring optimal quality in all supplied shots. Regardless of the lighting conditions, years of experience means I will deliver the shot you need.
Photography - Instinct & Empathy
Some aspects of photography can be learned, while others are instinct. I can't help but grin a little when someone assures me ahead of time that they aren't photogenic – I've a strong sense of empathy that lets me connect quickly with my subjects, ensuring they'll relax and forget about the camera long enough for me to capture them at their very best. Seeing someone smile when looking at a preview on the back of my camera is one of the greatest rewards during a shoot.
Graphic Design
Since 1996, I've been developing effective marketing collateral for my clients. Whether you're looking for a small brochure, a 100-page catalogue, a website, or a completely new branding package, I have the experience to deliver a product that will exceed your expectations.
Writing
A service many of my clients rely on is my ability to write compelling copy. If you don't enjoy the writing process, worry not, because I do! A rough outline is all I require to compose succinct and informative copy that will engage your audience, and convey your message professionally.
Volunteer Work
I invest as much time as possible in the community, focusing my efforts in four areas:
Ride2Survive - Canadian Cancer Society - Photography
Like most people, I've lost too many friends and family to cancer. I'm very lucky to be part of an incredible team of volunteers who've raised over 5 million dollars for the Canadian Cancer Society since 2005. Every single penny raised goes to the Canadian Cancer Society – all expenses are covered by the riders, crew, and our generous sponsors. I serve as the mobile photographer for the 400km, 20 hour journey from Kelowna to Delta. It's one of the most exhausting, emotional, inspiring, and rewarding things I do all year.
MS Society - Photography
My cousin is one of about 100,000 Canadians living with Multiple Sclerosis. MS hits Canadians more than any other country, and while important advancements have been made, the Society is hurting desperately for funding. I serve each year as an event photographer.
Downtown Eastside Women's Centre - Photography, Graphic Design, Art Direction
High levels of violence, homelessness, addictions and poverty characterize the Downtown Eastside community, and women and children are particularly vulnerable to exploitation, injustice and injury. They provide practical support to over 500 women, children, and seniors every day, providing a refuge and shelter from conditions of poverty and violence.
I've been working with the Centre for the last year, providing the Centre with marketing photos, and their members with holidays portraits. I've had the support of some amazing hair and makeup professionals, and arranged with local sponsors to provide printing and framing so the women have gifts to give during the holidays. I'm currently working on updating their print collateral, and creating a series of deliverables to support a gala fundraiser this fall at the Vancouver Art Gallery.
L.E.A.S.H. Animal Welfare Society - Photography, Graphic Design
The Mission at LEASH is to rescue and rehome the lost, displaced, abandoned and deserted animals of society. I support them by providing quality photos of dogs currently in foster care, to help prospective owners get a better sense of each dog's personality. This has had a very positive impact on adoption rates. We also host events for the public to have their dogs professionally photographed by donation, with 100% of the money raised going directly to expenses associated with rescuing vulnerable dogs across the country.